Nestled into the heart of Mexicali
Experience the best of our 5-star hotel
Araiza Mexicali is a five-star luxury hotel welcoming families, groups, and corporate travelers who seek the finest in accommodations and service. Boasting a privileged location just minutes from the United States border, 25 minutes from the airport, and close to the main commercial and financial centers of Mexicali, Baja California, our hotel is the perfect business and social hub. Upon arrival, guests are treated to gracious, warm service custom-tailored to meet their every need.
Accommodations
Enjoy a comfortable stay in Hotel Araiza rooms & suites at Mexicali
Offers
Reserve your stay directly with us and receive exclusive promotions with our special holiday packages.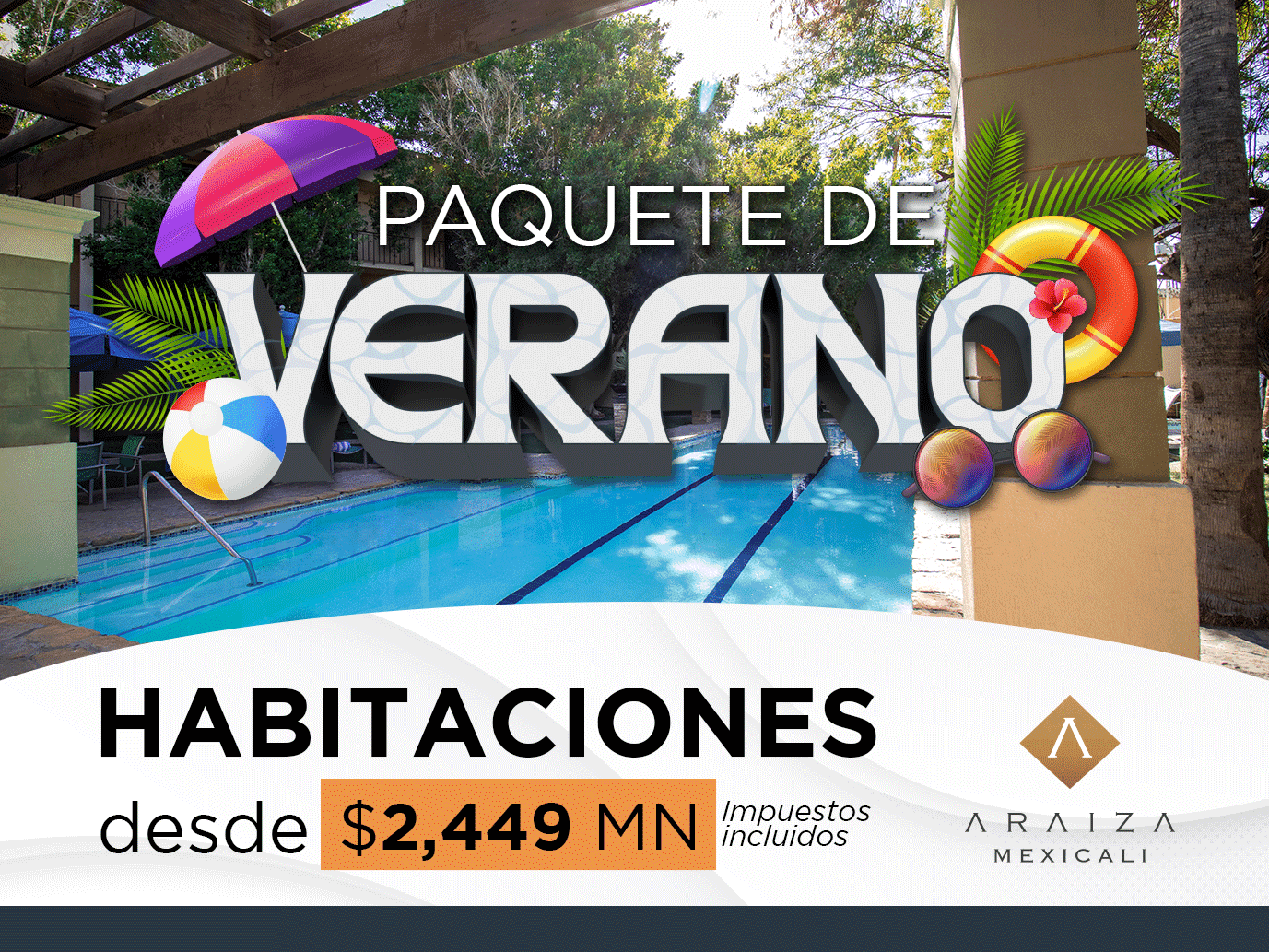 Stay this summer season in Araiza Mexicali with our holiday package. It includes lodging for two adults, two kids (breakfast with additional cost), breakfast for adults, late check out and 2 house drinks.
*Stays from June 1 to August 31, 2023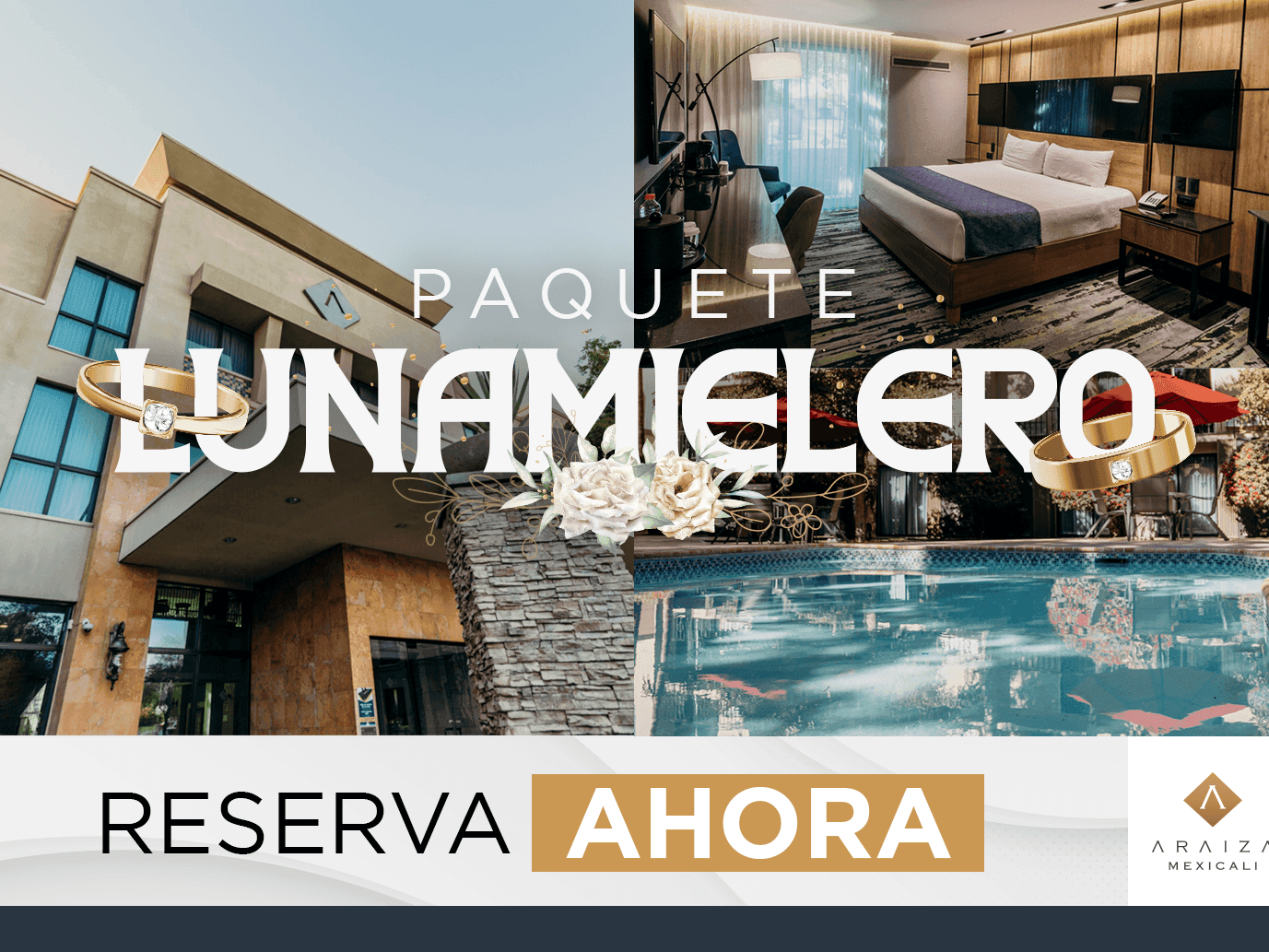 Have a romantic evening with your couple in Araiza Mexicali. Our honeymoon package includes lodging for two adults, breakfast for adults, sparkling wine, strawberries with cream or cheese sampler and two house beverages.
Download Our App
By downloading our app you will get a new way to know Araiza Hoteles, with it you will be able to improve your experience by making it easier. Some of perks you will get using it are: asking for room service using your smart phone, request room cleaning, check you Araiza Diamante points, know our installations and more.
5 Star Hotel in Mexicali
A design that both soothes and inspires, complemented by engaging, personalized service, makes Araiza Mexicali hotel one of the top hotels in Mexicali, BC.
Dining
Savour a Feast for the Senses
Taste the variety of flavors our restaurants offer. From the breakfast and grill buffet from Fonda de Mexicali to the japanese cuisine from Koori.
Venues
Araiza Mexicali is equipped with some of the most prestigious spaces for the celebration of events in the city.
Good experience, will stay at Araiza on my next trip.

2023-01-06
Wow!! They upgraded my room and it was all great, loving it more and more!! Visited their bar for the first time and it was a wonderful experience! Thank you to all the employees they are super friendly and nice. Thank you I will come and visit soon. Greatest experience ever.

2022-12-18
Had an amazing stay, great customer service and professional. Definitely would recommend and I would definitely come back. Over all everything was 10/10. Everyone was very kind and always accommodating your needs.

2022-11-22
We had a very positive experience with our stay. One evening we went to your "The Shining" movie themed bar and enjoyed the entertainment. We attended a wedding reception at your hotel and feel it was the nicest and best decorated (with flowers on the large arches and a dance floor with fireworks) we ever attended. During the event and our entire stay at your hotel, your staff provided excellent service and were courteous and polite.

2022-11-06
Great experience, our go to now in Mexicali. Staff is super professional and attentive.

2022-11-26
Everyone is friendly and helpful to your needs. Food was excellent.

2023-01-10