DISCOVER HERMOSILLO
FROM AN IDEAL LOCATION
Welcome to Araiza Hermosillo
Araiza Hermosillo is a comfortable hotel offering families, groups, and corporate travelers exceptional service in the Pitic neighborhood of Hermosillo, Sonora Mexico. More than just a place to stay, our hotel is a destination for exploring the city's popular attractions and diverse restaurants just steps away. While relaxing at our hotel, you will enjoy gracious, warm service tailored to meet your every need.
Accommodations
The rest and comfort of our guests is the main objective of Araiza Hermosillo. That's why we offer you fully equipped rooms for all the needs and tastes.
Offers
Reserve your stay directly with us and receive exclusive promotions with our special holiday packages.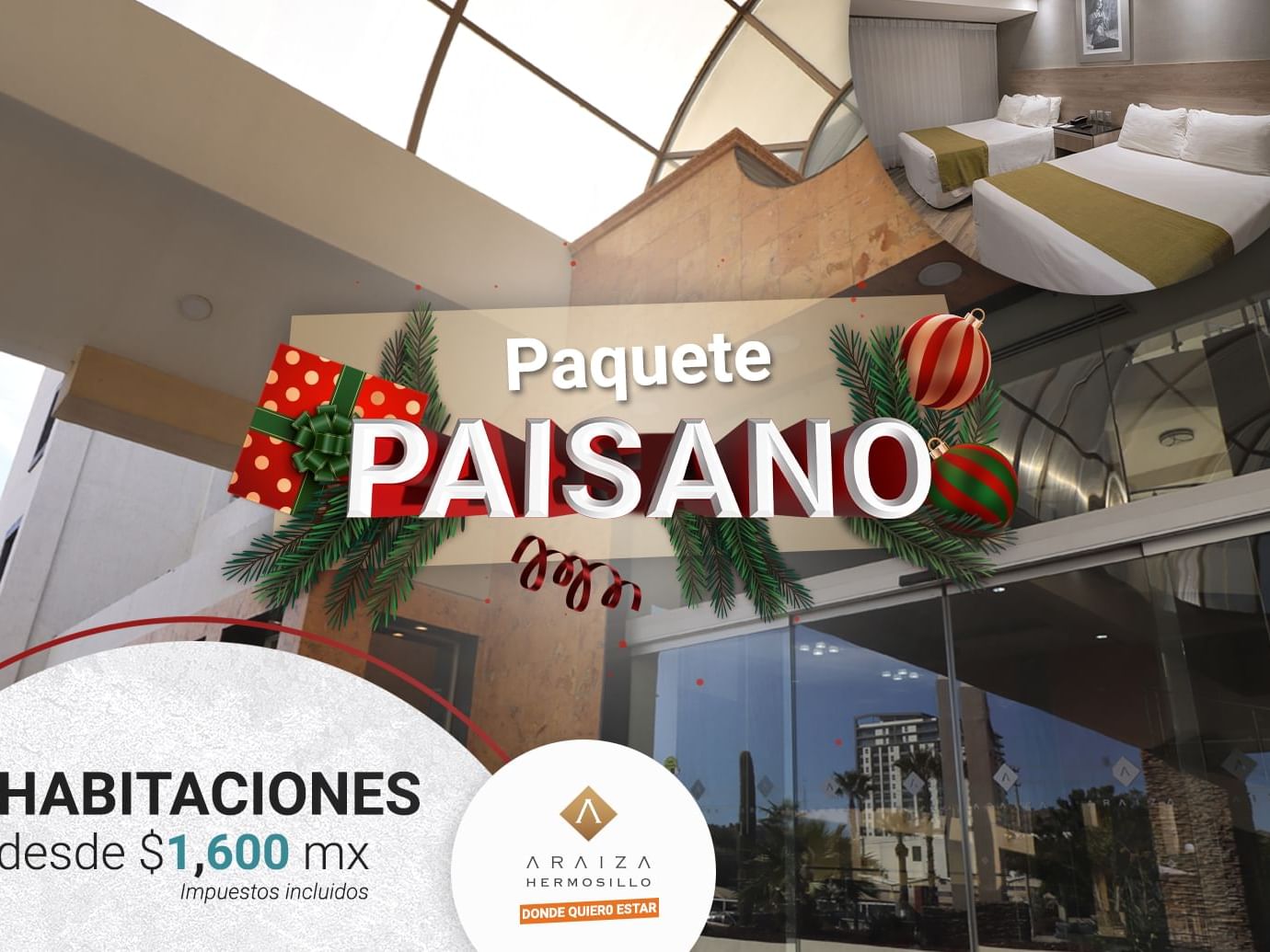 ¡Rest in Hotel Araiza Hermosillo with our special end of the year holiday package!
Download Our App
By downloading our app you will get a new way to know Araiza Hoteles, with it you will be able to improve your experience by making it easier. Some of perks you will get using it are: asking for room service using your smart phone, request room cleaning, check you Araiza Diamante points, know our installations and more.
In The Heart Of Hermosillo
A design that both soothes and inspires, complemented by engaging, personalized service, makes Araiza Hermosillo one of the top hotels in Sonora, Mexico.
Dining
A TRADITIONAL TASTE
Visit us and enjoy our traditional breakfast buffet and à la carte menu. In our restaurant you will be able to order dishes ranging form traditional breakfasts or dinners to full Mexican cuisine with all the flavors of the northwest.
Venues
Araiza Hermosillo offers you the ideal space for your events. From company meetings to weddings, our installations are a white canvas for you.
Good location, many restaurants near the hotel and you can walk to La Ruina.

2022-12-20
The place is very clean and the breakfast is great!

2022-11-25
Just an easily accessible place when in Hermosillo. The rooms are comfortable and clean.

2022-10-30
I am definitely staying again. Great! The staff was amazing.

2022-09-04
This was a great hotel for my first time staying in Hermosillo. Great breakfast buffet.

2022-07-25
Great place. We have stayed at Araiza before and everyone is friendly and helpful. What I like is that every day they come and clean your room.

2022-06-07